By Wendy |
25
November 2021 |
0
Comments
DURABLE SKIN-BASE: PAPY
Skin-base style is popular all over the world particularly in Europe and North America. Customers are most concerned with how natural-looking a hair system appears. Naturality is the most important factor for hair system users. Durability is another quality a customer is looking. As a manufacturer with more than 20 years of experience in the industry, we value our customers' need. Thus, we made a skin-base hair system that is both natural and durable- PAPY.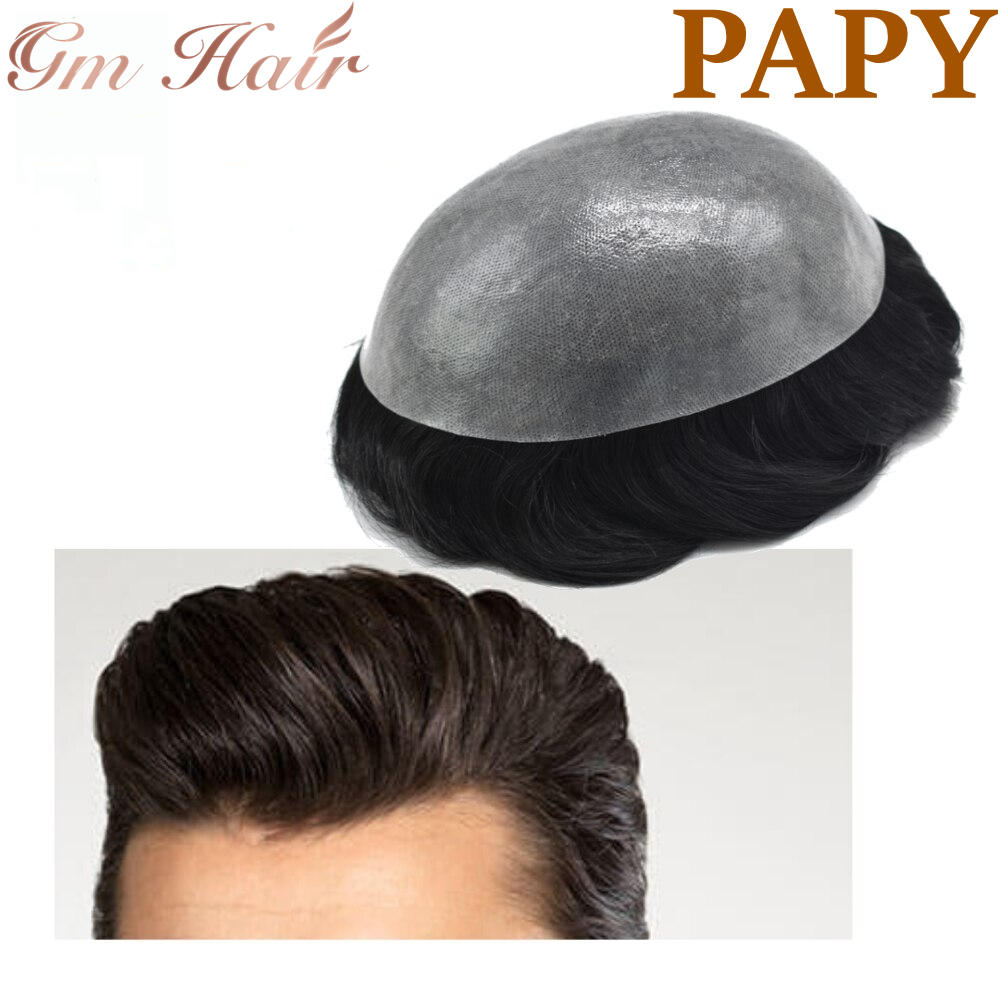 WE RECOMMEND PAPY:
If you want a longer lifespan but you are still after a super natural look, you should think about our PAPY model. It has a 0.12mm super thin skin base with also V-looped hair all over like the ULTRA THIN SKIN. They only differ in the thickness of the skin base. Our PAPY model lasts up to 3-6 months which is significantly longer than the ULTRA THIN SKIN model.
If you want a skin hair system, but a long lifespan is your top priority, then we recommend our PAPY model. Our PAPY is one of the most popular stock skin model because of its natural-looking hairline and durability.

EASY TO CARE
For the end user's perspective, PAPY is very simple to use and maintain.Unlike lace, PAPY is much easier to maintain. Because of the holes in lace, glue is not usable. The glue could seep through the holes and cling to the hair. If tapes are used, they must still be washed and cleaned on a regular and thorough basis to avoid any sticky matters left on the base, which will be mixed with the dust, causing hair to become tangled or mass. However, for ultra thin skin hair systems, there are no such concerns as those mentioned above. Both glue and tape are acceptable. In cleaning the base, soaking it with warm water peels off the glue or
tape easily.
STRENGHTS

• It is extremely versatile in terms of styling;
• It is lightweight
• It is extremely simple to put on.
• Because it has a solid surface and no mesh holes, it is very easy to clean.
• When properly attached, there is no hair coming out of the underside of the base.
• Scratching the hair feels like scratching normal skin.
• Knots do not need to be bleached.
• Simple attachment and removal, thanks to the poly base's affinity for glue.
• When compared to other bases, it provides the most flawless realistic hairline appearance.

WEAKNESSES

• It is not as comfortable as lace.
• If it is sealed in and has no holes, it can raise your body temperature and make you feel hot.
• Not particularly breathable
• If not properly secured, sweat will fight the adhesive and begin to break down the bond.

GM Hairpiece manufactures the highest-quality hair systems. We use 100% real and quality materials. Each step of the production process is meticulously carried out with excellent technique and precision to ensure that the hair system lasts as long as possible while remaining as comfortable and breathable as possible.

We have 6000+ stock hair systems that are available for shipment and are sent out within 24 hours. They will take just 4-6 days to arrive. Stock hairpieces sometimes cannot meet your requirements but there is nothing to worry about because we can make custom hair systems for you. For custom hairpieces, we need the following basic information: hair length, hair color, hair wave, hair density, base size, base design, and hairstyle. Different knotting methods can also be catered for bleached knots on the front lace section or V-loops. We can meet any requirements for custom-made orders.
In order to make a perfect hairpiece, it is best if you send us a template and a hair sample to get a color match. Custom orders will arrive in about 2-3 months.
Read our blog: Our Thin Skin Men Toupee Styles: Why Are They Expensive? What Sets Them Apart From Others?
Link: https://gmhairpiece.com/012mm-skin-stock-hair-system-for-men-split-knotted-durable-fulloly-mens-toupee-cut-away-hairpieces-for-men-p0027.html
If you're looking for the best quality lace front wigs for men at an affordable price, check out our incredible hairpiece inventory. We provide a large selection of hair wigs at factory-direct prices.
Please feel free to get in touch with me thru the information below. We are open to wholesalers and retailers. We hope to have a cooperation with you.
Leave a Reply
Your email address will not be published.Required fields are marked. *