By Wendy |
13
January 2022 |
0
Comments
LACE FRONT: BX2
It's difficult to find a wig that doesn't look like a wig. As a hair consultant, wholesaler, or salon owner, you may come across men who need to wear a wig but are afraid because they don't look real or natural at all.
Unfortunately, men are more likely than women to suffer from this condition. We have accepted the wearing of wigs in women, but the phenomenon is still highly prejudiced in men. Women can easily wear wigs for fashion, dress-up desires, and cosplays, whereas men face embarrassment if they are caught wearing wigs.

So, what is the solution for this?

The solution is simple: natural-looking wigs that cover hair thinning or balding in such a way that the wearer forgets he is wearing a wig. High-quality lace front wigs for men are now available to conceal baldness and show off a full head of hair.
Now, we would like to introduce to you one of our lace front model- the BX2.

BX2 BASE MATERIAL
As a hair replacement system manufacturer and supplier with over 20 years of experience, we only use the highest quality imported lace. The French lace is ultra-fine, soft, and almost imperceptible. And is breathable, made with ultra-comfortable fabric, which allows air to pass through the wig and provide adequate oxygen to your scalp. Because of the lightweight fabric, the wig can be worn every day without damaging natural hair or irritating the scalp. Thus, ideal for those with sensitive scalps.
0.08mm thin skin at the back and sides strengthens the base, and thin skin is also easy to clean and maintain. The thin skin on the back and sides is 1" wide. The base can be reduced in size, but make sure to retain some of the thin skin or you will miss out on the thin skin.
NATURAL HAIRLINE
A graduated hairline is featured also on our BX2 men's stock hair system just like our Q6 model. We use single split knots on the first 1/2" of the front hairline to make the hair system even more realistic, as smaller knots are better for bleaching, and the rest are double knots. To give this system a very good front and top appearance, we bleached knots at the front 1" of the base and 2" around the crown.

HANDTIED & FREE TO STYLE
Most wigs appear fake or unnatural because hair strands are machine-tied to the cap. As a result, when the wearer parts the wig to create hairstyles, others can tell the difference.
In contrast to those wigs, hair strands in all our hair systems including our BX2 model are meticulously hand-tied to the wig's base, perfectly mimicking the natural hairline and creating the illusion of natural hair. It is free to style whatever you want without fear of looking fake.

See illustration below: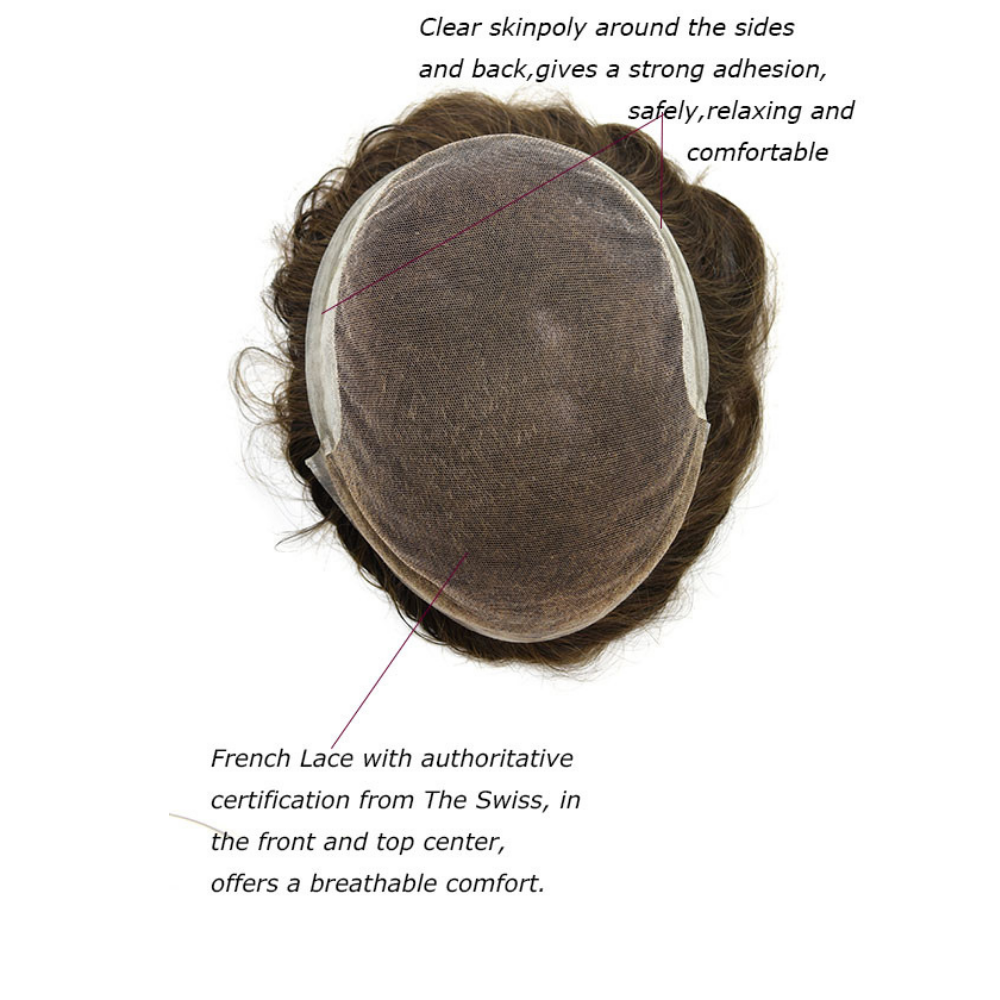 COLORS
BX2 can be produced in large quantities on demand. It is available in 22 different colors with grey percentage, allowing you to select one that closely matches your natural hair color and complements your skin tone.

PRICE
The price of a men's lace front wig varies greatly depending on the quality of the hair wig, the softness of the lace front material, and the type of hair strands, and a good lace front wig can cost a fortune. Some lace front wigs are less expensive than others. Cheap lace front wigs for men, on the other hand, do not last long, and the consumer must reinvest in the wig, which ultimately costs more than buying an average-priced wig.

Read our blog: Our French Lace Men Toupee Styles: Why Are They Expensive? What Sets Them Apart From Others
Link:https://gmhairpiece.com/gm-hairpiece-french-lace-grey-hair-mens-toupee-bleached-knots-breathable-natural-hairlineoly-skin-hairiece-100-human-hair-mens-hair-system-p0018.html

If you're looking for the best quality lace front wigs for men at an affordable price, check out our incredible hairpiece inventory. We provide a large selection of hair wigs at factory-direct prices.
We accept all order types, including stock orders, custom orders, and bulk hair system orders. We have over 6000 units in stock, with 15+ men's toupee models ready for shipment. In addition, we constantly update our stock toupee models in accordance with market trends. If stock hair systems do not satisfy your customers, you can arrange for custom orders.
If you have any questions, please contact our email help@gmhairpiece.com.
Leave a Reply
Your email address will not be published.Required fields are marked. *